The most wasted space in Southern California?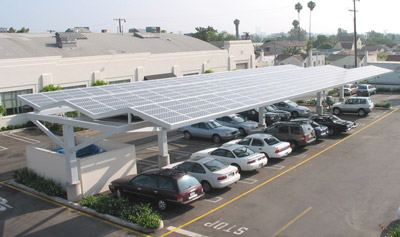 Parking lots. But smart business owners have found a way to make their parking space profitable. They've installed solar carports or shadeports and reduced their electrical costs significantly. A solar carport is a cost-effective way to install solar at your home. Each parking space accommodates 2kW of solar, so you can enjoy the economic benefits of solar without roofing inconvenience.
Los Angeles Air Force Base Installs Solar Shadeport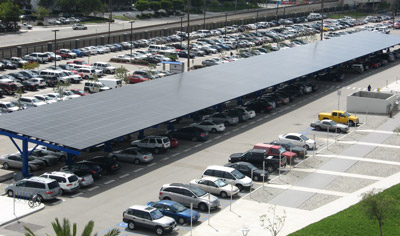 The Los Angeles Air Force Base recently chose Go Green Solar Solutions to install two large solar shadeports to cut their annual electric bills by $70,000. Go Green Solar Solutions developed a new panelizing procedure that was done in the module manufacturing factory (7 modules combined into one long panel) and shipped pre-assembled directly to the site. Each pre-assembled panel arrived pre-wired, requiring just two electrical connections. This greatly simplified the installation, reducing on-site labor costs by 20-30%. The three-phase project was completed ahead of schedule in three months. It provides shade for over 200 cars and will result in over $12.5 million dollars in electric savings over 30 years.
The Solar Carport Experts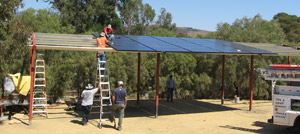 Go Green Solar Solutions has installed the largest carport systems in Southern California, and we have designed and developed innovative solutions for new and retrofit projects that have saved our clients' time and money.
Let our experience and expertise help you make a profit from your parking lot.
Call
(805) 497-9808

today for your free quote