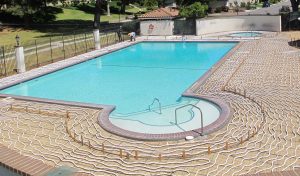 The HOA wanted to resurface this community pool, and the
members called Go Green Solar Solutions. They wanted to see what they could do to update the pool and save money on their gas bill.
In-Deck Solar Pool Heating
GGSS came up with a cost-effective plan: Install a 6,000 sq ft in-deck solar pool heating system, upgrade the existing pool electrical meters, and upgrade the pool pumps to variable speed pumps. These upgrades save over $1,500 per month in gas costs.  They also improve the year-round swimming visits by 50%. "This is great," one resident raved. "We used to only come in the summer, but now the family is coming to the community pool year-round, and it's warmer than ever before." The upgrades are a win for everyone.  They eliminate the HOA pool gas heating bill, plus cut the electric bill in half. The improvements also keep the community pool open year-round, and CSI rebates reduced the cost of the project.