by Lauren Dansey
As the next step in our in-deck solar pool heating adventure, concrete was poured over the solar heating tubes.  When the concrete was poured, workers made sure that the tubes were approximately 2″ below the concrete surface.  This maximizes the heat that is transferred to the tubes, without the possibility of the tubes showing in the concrete.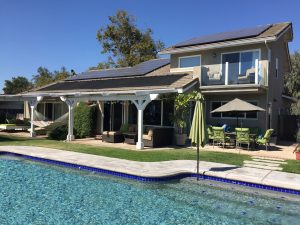 To the right is the finished pool and deck.  The concrete gets very hot in the direct sun, so we're looking forward to turning on the solar.  We can't turn the heat or solar heating on until a  month has passed so the pool surface can cure, but the temperature without heating is a very comfortable 85 degrees.  The rooftop pool solar and in-deck solar heating will allow us to extend our swim season year-round, without increasing our utility bill.  I'll bring you an update when the solar is turned on and let you know how it affects our heating bill.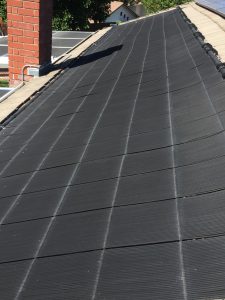 To the left you can see the rooftop solar pool heating panels on the roof, below the solar electrical (PV) panels.  We used ten 4 ft. by 8 ft. Heliocol panels.  They are shorter than the normal Heliocol panels, designed for roofs that don't have room for the larger panels.  Solar pool heating is the most cost-effective use of solar in your home, with a return on investment of just 2-4 years.  We're looking forward to swimming into the fall.